Zehner Reunion Catalog
Coming Soon!
Since it has been about 10 years since the last shirts were made. Pics of the shirts are on the way. Just please be patient. This website is very much a work in progress.
Here is a pic of the new design
If you click on any of the designs it will send you to a full size photo.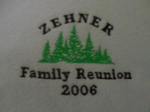 You can purchase a fleece throw for $8.00. These are the lighter weight throws and are 50in x 60in. The third line is optional. You can choose to have the year or you may want your family name.